DH-D
High Density Billing Application

The D-TAC "HD" series billing system is a complete post-paid
CDR billing platform that is designed to work with traditional switches, IP switches, gateways, proxy servers, soft switches
and boarder session controllers. Providing a quality-billing platform
for high-density VoIP and TDM based CDR networks.

D-HD offers Telecom specific billing and business automation features to make operating your company easier. Each department within your organization is provided the screens, features & tools to allow for maximum productivity. From customer support systems to the rate management tools, the D-HD system provides the tools needed to get the job done. If you are looking for CDR management, powerful invoicing, cash receipts, carrier costing, ASR reporting, statistical route or trunk group information, then the D-TAC HD Billing System provides the solution.


Remote Gateway RADIUS Authentication
and Billing Services

Billing and Authentication make up the core of our system with full
AAA RADIUS capabilities and additional AARA (authentication,
authorization, routing and accounting) RADIUS capabilities. Dedicated Web based client software, independent database containers and dedicated RADIUS Servers are used to authenticate and control traffic from gateways, call relays, soft switches and proxy servers.

Browser Based Account Maintenance
and Support system

Multi-level Administrator, Billing, Customer Server and User Account login access structures allow for any level of service, account maintenance or reporting. The Web based interface makes controlling and consolidating multiple remote gateways easy and efficient from anywhere in the world.

· Calling Card Services
· Carrier Route Billing
· Gateway - Authentication and Billing
· Gatekeeper - Authentication
· Call Relay - Authentication and Billing
· CDR Log File Billing
· Wholesale Billing
· Origination Billing
· Corporate Internal/International Call Control
· Corporate Network Billing and Reporting

The following list contains some D-TAC CDR Processing Engines and Call Control Applications

· Cantata IMG
· Cedar Point (packet cable switch)
· LignUp CDR Processor
· NexTone CDR Processor
· RADIUS (Cisco & Quintum)
· Vocal Data CDR Processor
· Quintum CDR Processor
· Cisco CDR Processor
· Carrius Technologies (high-density VoIP & TDM switch)
· Versatel Networks (high-density VoIP & TDM switch)
· Snom (SIP Proxy Server)
· Asterisk CDR Processor
D-TAC works with any RADIUS Compatible Devices such as
AudioCodes, Cisco or Quintum gateways, D-TAC soft
switches and Snom proxy servers.
View the D-HD Presentation
(Adobe PDF)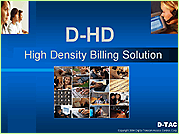 ---
View D-HD
Product Details (PDF)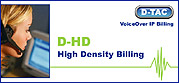 ---
View VCS
Product Details (PDF)